Whitney Performance at The Sunshine Theater in Albuquerque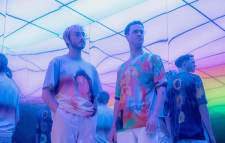 Whitney
Wednesday, October 5, 2022
Doors Open at 7:00 pm.
Performance at 8:00 pm.
Sunshine Theater
120 Central Avenue SW
Albuquerque, New Mexico
Tickets: General Admission $33.
Julien Ehrlich and Max Kakacek could hear the staggering differences in the songs they were writing for their third album as Whitney, Spark–the buoyant drum loops, the effortless falsetto hooks, the coruscant keyboard lines. They suddenly sounded like a band reimagined, their once-ramshackle folk-pop now brimming with unprecedented gusto and sheen. But could they see it, too?